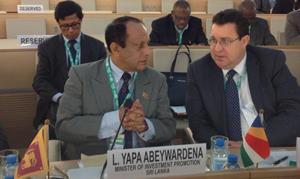 Hon. Lakshman Yapa Abeywardhana highlights the importance of private sector engagement in achieving Sustainable Development Goals
Hon. Lakshman Yapa Abeywardhana, Minister of Investment Promotion led Sri Lanka delegation to the World Investment Forum 2014(WIF), held in Geneva from 13-16th October 2014.
The Hon. Minister addressed the High Level Ministerial Round Table held on 16th October, as part of the World Investment Forum 2014. The event gathered over thirty Ministers from many countries across the world as well as heads of International Organizations to debate the need of the private sector to be a vital partner to public sector efforts in achieving sustainable development goals(SGDs).


The role of investment to generate productive capacity was at the heart of discussions and discussed the appropriate policy framework for investing in sustainable development, strategies to engage private stakeholders to finance SDGs. The key elements for the debate was how can policies be deployed to engage private sector funding for SDGs, what factors shape private sector involvement in the sustainable and inclusive growth agenda and a need for international governance structure.