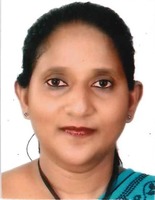 Mrs. Gothami Silva
Ambassador & Permanent Representative of Sri Lanka
to the World Trade Organisation
Profile of Mrs. Gothami Silva
Ambassador & Permanent Representative of Sri Lanka to the World Trade Organization (WTO) Geneva, Switzerland
Ambassador Gothami has assumed duties as the first female Ambassador & Permanent Representative of Sri Lanka to the World Trade Organization (WTO) on 01st April 2019 and now heads the office of the Permanent Representation of Sri Lanka to the World Trade Organization (WTO) in Geneva, Switzerland.
Ambassador Gothami was inducted in to her professional diplomatic career, which spans over nearly 31 years when she first joined the Department of Commerce of Sri Lanka in 1988. Since then, she played an instrumental role in shepherding SL's trade policy at all levels (bilateral, regional & multilateral), during her previous foreign assignments in India (Bombay), Switzerland (Geneva), Australia (Sydney), Italy (Rome), Belgium (Brussels) and United Kingdom (London).
Her educational background includes a B.A. (Honours Degree in Econometrics) from University of Peradeniya (SL), a Post-Graduate Diploma on Trade Policy & WTO Agreements from Training Institute of the WTO (WTO - Geneva) in 1998 and was an active participant in 38th Regional Course on Key Issues on the International Economic Agenda (UNCTAD flagship Paragraph 166 Course) held in Singapore, 13 November - 01 December 2017. She was also a Master's Degree scholarship recipient to pursue studies in international trade law awarded by GOSL in 2004/2005 under the President's Fund.
Immediately prior to her current assignment, she headed the Commercial & Economic Affairs Division of SL High Commission in London and coordinated all bilateral trade & investment promotional activities covering United Kingdom & Ireland, and collaborated internally and externally to conduct SL's representation at the Commonwealth in areas, i.e. trade and economic development. Her recent extensive research on the process of Brexit and assessing of its implications on Sri Lanka has earned good commendation from her superiors.
Before her assignment in London, she headed the Multilateral Trade Division of the Department of Commerce (DoC) of Sri Lanka since July 2017 till November 2018 and was responsible on an array of areas under the remit of WTO Agreements. She was also involved in the trade negotiations at bilateral level with Singapore, India and Thailand with specific tasks of overseeing the chapter negotiations on trade in goods, contingent trade remedies and TBT/SPS measures.
She was also attached to Embassy of Sri Lanka to the European Union, Brussels as Minister (Commercial & Economic Affairs) while heading Commercial & Economic Affairs Division of the SLEMB and coordinated all bilateral trade & investment promotional activities covering Belgium & Luxemburg, including conducting SL's representation at the EU in important areas, i.e. trade, economic development, fisheries, agriculture, IPR and trade related aspects of environment and labour.
She held many prestigious posts in the past and was the first female Sri Lankan diplomat ever to have become the Chairperson of two prestigious bodies operate within the UNFAO - the Committee of Commodity Problems (CCP) and the Group of Seventy-Seven & China (G-77) - consequently in 2011/12 and 2013/14.
Her recent assignments included extensive research on assessment of implications of Brexit on Sri Lanka in 2019, the removal of IUU fishing ban on fish exports from SL to the EU successfully in 2016, regaining of EU- GSP+ Trade Concessions by Sri Lanka in 2017 and lodging SL's application for protection of 'Ceylon Cinnamon' as a geographical indication in the EU in 2017. Gothami has also received special and very rare commendations from European Commission in Brussels on the proactive role played during her tenure in Brussels.
Being a highly regarded technocrat of the GOSL, Ambassador Gothami's expertise lies in an array of areas, i.e. trade negotiations, agriculture, industrial tariffs, rules of origin, contingent trade remedies, IPR (geographical indications, patents & trade marks), TBT/SPS measures and trade related aspects of labour and environment, including sustainable fishery management issues. The articles and publications authored by her in these areas are testimonies of her in-depth knowledge and exposure gained in the international arena. She has also been a frequent guest speaker on these trade related topics in various forums, both in Sri Lanka and abroad.
Detailed Curriculum Vitae of Mrs. Gothami Silva
Permanent Mission of Sri Lanka to the WTO
Geneva
7 May 2019