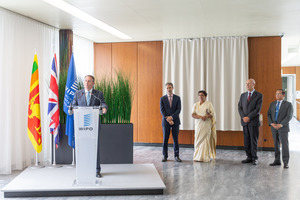 Unveiling a painting in honour of the late Lakshman Kadirgamar at the World Intellectual Property Organization (WIPO) in Geneva today (21 June), Hon. Liam Fox, the Secretary of State for International Trade of the United Kingdom, said that he hoped the painting would prompt the future generations and the staff of WIPO to learn from the legacy of the late Minister of Foreign Affairs of Sri Lanka, "who served and will continue to serve as an example to us all". He made these remarks addressing a gathering of invitees including senior officials of international organizations and diplomats, in commemorating the life of the late Kadirgamar.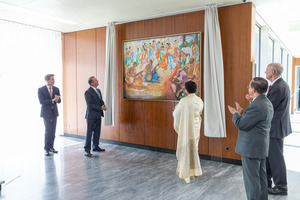 The painting gifted to WIPO by Mrs. Suganthi Kadirgamar, the late Minister's spouse is one of the masterpieces of renowned Sri Lankan painter Mr. Stanley Kirinde, depicting 'Guttila the Veena Player' – a historical poetic narrative of 'intellectual property and copy rights on music'. The ceremony was organized under the patronage of Dr. Francis Gurry, the Director General of WIPO.
Speaking further on the occasion, the British Secretary of State for International Trade praised the late Kadirgamar for his tireless work and outstanding contribution in strengthening global understanding and cooperation, calling Kadirgamar "a giant of a man".
Director General Gurry, recalling his close association with the late Kadirgamar at WIPO, commented that Kadirgamar helped him gain expertise through creative thinking in the field of intellectual property. The late Minister served as the first Director for Asia and the Pacific Bureau during the period 1976 to 1988 and pioneered and promoted development cooperation, including through capacity building on intellectual property (IP), enabling many developing countries in the region to harness the benefits of IP for socio-economic development.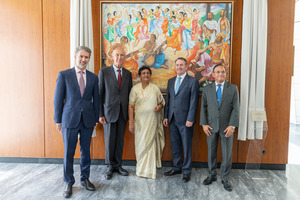 Sri Lanka's Permanent Representative to UNO in Geneva Ambassador Azeez referred to the rich and rewarding legacy left behind by the late Minister of Foreign Affairs, through stimulating professionalism and nurturing talent. The late Minister dreamt of "a peaceful, reconciled Sri Lanka", he remarked.
The event was coordinated by the Permanent Missions of Sri Lanka and the United Kingdom and WIPO.
Video of Event with Remarks at:
https://vimeo.com/276219729/2b6ce8a987
Permanent Mission of Sri Lanka
Geneva
21 June 2018