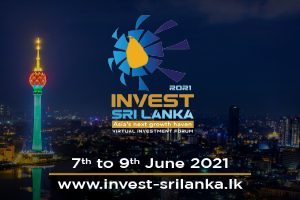 Sri Lanka Investment Forum-2021
'Sri Lanka Investment Forum-2021' is scheduled to be held virtually from 07-09 June, 2021.
This forum will focus on several potential areas for investment in Sri Lanka which include manufacturing; Information and communication Technology; Hospitality and Tourism; Agriculture & Food processing and Construction, infrastructure & Logistics.
Important sub sectors that would especially be covered include the following:
Pharmaceutical:
Pharma-Zone with pre-environment clearance, industry leading tax breaks for Pharma companies to strengthen supply chain
Apparel:
Dedicated Fabric Park to achieve supply chain resilience by localizing raw material imports
ICT:
Code for Multiple stock exchanges, airlines, theme parks, boardrooms and banks is developed in Sri Lanka. Sri Lanka is among the fastest growing ICT hubs in South Asia
Tourism:
Best Travel Destination in 2019 (Lonely Planet); government expects to achieve incremental tourism revenue ~$6bn per annum by 2025
Rubber:
Solid tyre capital of the world with further opportunity for large investments
This forum will be an ideal opportunity for the members of your esteemed institution to know about following positive factors regarding investing in Sri Lanka;
Colombo Port City with New Special Economic Zone (SEZ) law and attractive fiscal incentives which is comparable to Dubai, Hong Kong and Singapore
Government offers for industry-leading incentives with low tax regime.
Colombo Stock Exchange which is one of the fastest growing stock markets in the region.
Sri Lanka's knowledge driven economy
Ever growing ICT and BPO sector
Please click here for the event brochure.
Link for Forum Registration: https://www.invest-srilanka.lk/
For more details and any clarification please send and an email to This email address is being protected from spambots. You need JavaScript enabled to view it. OR contact Tel: 00 41 (0) 779105355.