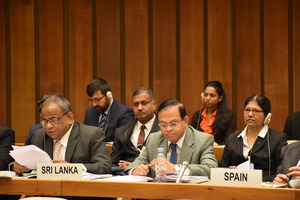 ""Making Sri Lanka a mine free country by 2020 remains our goal and vision", remarked the leader of the Delegation of Sri Lanka to the 17th Meeting of State Parties (17 MSP) to the Anti-Personnel Mine Ban Convention (Ottawa Convention) Mr. V. Sivagnanasothy, addressing the State Parties' Meeting in Geneva on 26 November 2018. He stressed that the ongoing mine action in Sri Lanka complemented the national drive towards strengthening harmony and co-existence, thereby contributing to the achievement of Sustainable Development Goals (SDGs) and economic and social prosperity.
Highlighting the different aspects of mine action progamme implemented by the Ministry of Resettlement, Rehabilitation, Northern Development & Hindu Religious Affairs, Mr. V. Sivagnanasothy, in his capacity as the Secretary to that Ministry, elaborated the 5-Year Strategic Plan (2016-2020) developed in consultation with the National Mine Action Centre and other stakeholders as well as measures taken to fulfil the commitments under the Ottawa Convention.
He also underlined Sri Lanka's commitment and dedicated efforts which led to remarkable achievements in the demining process. His progress update identified the District of Batticaloa as having been declared as a mine-free District in 2017, while contaminated areas in Sri Lanka had been reduced to 26 Sq.km in 2018. It also included an outline of comprehensive measures taken by Sri Lanka to destroy the stockpiles within the next 3 years as well as mine risk education being conducted in Northern and Eastern Provinces.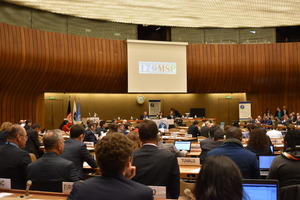 The delegation of Sri Lanka to the 17 MSP also included Ambassador A.L.A. Azeez, Permanent Representative of Sri Lanka to the United Nations in Geneva, Mrs. Samantha Jayasuriya, Deputy Permanent Representative, Ms. Shashika Somaratne, Minister Counsellor of the Permanent Mission of Sri Lanka to the United Nations in Geneva and Mr. Neel Fernando, Assistant Director, Ministry of of Resettlement, Rehabilitation, Northern Development & Hindu Religious Affairs.

The Convention a humanitarian disarmament treaty which entered into force in Sri Lanka from 1st June 2018, provides a framework for mine action, seeking both to end existing suffering and to prevent future suffering. It seeks to ban the use, stockpiling, production and transfer of anti-personnel mines.

Sri Lanka will present its Initial Report under Ottawa Convention will be presented to the President of the 17th MSP tomorrow 29 November 2018 in Geneva. The Report contains details information on national implementation measures, stockpiled anti-personnel mines, areas known or suspected to contain anti-personnel mines, technical characteristics of anti-personnel mines, victims assistance and mine risk education.

A side event "Mine Free Sri Lanka - 2020 - Advancing Development and Building Sustainable Peace" organized by the Government of Sri Lanka will be held on 30 November 2018 on the sidelines of the 17 MSP.
Full text of the Intervention made by Mr. V. Sivagnanasothy, Secretary to the Ministry of Resettlement, Rehabilitation, Northern Development & Hindu Religious Affairs
Permanent Mission of Sri Lanka
Geneva
27 November 2018