The Sri Lanka pavilion at the "Swiss International Holiday Exhibition" known as "iViaggiatori" was inaugurated by the Mayor of Lugano Marco Borradori, chief Organizer of Lugano Exhibition Marco Peon, and the Permanent Representative of Sri Lanka to the World Trade Organization Ambassador R. D. S. Kumararatne, on 01 November 2018.
The Sri Lanka Mission in Geneva, in collaboration with the Sri Lanka Tourism Promotion Bureau, organized Sri Lanka's participation at this Holiday Exhibition which was held from 01 to 04 November 2018 at the Lugano Exhibition Centre in Switzerland. iViaggiatori is a prestigious tourism event that takes place annually in the Italian speaking canton in Switzerland, and is recognized as one of the prominent tourism trade fairs in Europe.
Switzerland is a well-developed economy with a GDP of CHF 668 billion and a per capita of CHF 79,000, the second highest in the world. The households' disposal income is estimated to be CHF 400 billion with an average saving rate of 14%. Swiss tourists are considered to be high spenders in leisure travel.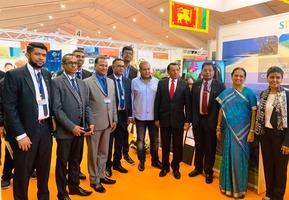 The joint effort made by the Sri Lanka Mission in Geneva and the Sri Lanka Tourism Promotion Bureau is timely as Sri Lanka is gradually becoming a popular destination for Swiss tourists. This is further facilitated with the introduction of Swiss Air chartered flights "Edelweiss Air" twice a week starting from 03 November this year for Zurich-Colombo-Zurich sectors. Sri Lanka's recognition by Lonely Planet as the number one tourist destination for 2019 will complement Sri Lanka's promotional efforts in the Swiss market.
The Swiss International Holiday Exhibition attracts around 20,000 participants from among travel agents, tour operators, and tourism related professionals. This annual exhibition started in 2003 and the exhibition area has expanded over 30% with the increasing number of exhibitors from all-over the world. The 2018 edition was attended by over 250 exhibitors from countries such as Italy, Switzerland, Sri Lanka, India, Spain, Cyprus, Canada, Germany, Tanzania, Croatia, Ethiopia, Costa Rica, Chile, Austria, Maldives, Lithuania, Greece, South Africa, Indonesia, Uganda, and Mongolia.
This year, six (06) companies representing Sri Lanka's tourism business sector, namely, Karusan Travels, A. Baur & Company Travel (pvt) Ltd., Lets travel, Ayu in the Wild Holidays, Coral Sands Hotel Ltd., and The choice - Gem & Jewellery participated in the exhibition. Sri Lanka's participation at the exhibition was coordinated by Marketing Officer in charge of the Swiss Market at the Sri Lanka Tourism Promotion Bureau Jagath Perera. The Sri Lanka pavilion also received coverage from the popular television channel "TELETICINI" on the opening day of the exhibition.
Permanent Mission of Sri Lanka
Geneva
05 November 2018