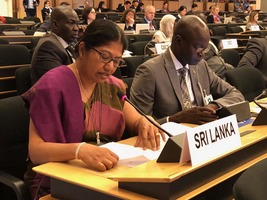 "Having dealt with issues related to internal displacement and refugee returnees, Sri Lanka recognizes the challenges associated with return and reintegration,'' stated Deputy Permanent Representative of Permanent Mission of Sri Lanka in Geneva, Ms. Samantha Jayasuriya, participating at the just concluded General Debate of the 69th Session of the Executive Committee (Ex-Com) of the UNHCR in Geneva.
She noted that the Global Compact for Refugees (GCR), agreed recently following consultations in Geneva, was aimed at addressing large scale movements of refugees, but given that most movements were 'mixed flows', who were using the same routes and encounter similar needs and challenges, it was important that it must be responded to effectively at the ground level.
Sri Lanka delegate commended the agreement on GCR as a triumph for multilateralism while thanking the UNHCR and the country teams of UN agencies working in Sri Lanka for complementing the efforts of the Government. Sri Lanka reiterated its commitment to continuing its constructive engagement with the UNHCR.
The High Commissioner for Refugees Mr. Filippo Grandi conveyed his appreciation to Sri Lanka for drawing attention of the Ex-Com to the needs and challenges of mixed migration flows, which he said was an important aspect that required collective responses at all levels.
The Executive Committee of the UNHCR is a Forum for Annual Dialogue among States Parties to the 1951 Refugees Convention and its 1967 Protocol. Its primary objective is to assess and share experiences on addressing issues related to refugees, IDPs, Statelessness and the work and finances of the UNHCR.
Permanent Mission of Sri Lanka to UNO
Geneva
2 October 2018