Minister of Telecommunication, Digital Infrastructure and Foreign Employment, Hon. Harin Fernando, emphasised that the Government of Sri Lanka accorded priority to increasing foreign employment opportunities for Sri Lankans in semi-skilled and skilled categories, with a clear focus on diversification of labour markets. The Minister particularly highlighted the long-term productive contributions made by Sri Lankan labour migrants to the growth of Sri Lanka's economy.
Minister Harin Fernando made these remarks during a meeting with Ambassador William Lacy Swing, the Director General of International Organization for Migration (IOM) and senior officials of IOM yesterday, 19 July 2018, in Geneva.
The IOM Director General thanked the Minister for the excellent bilateral cooperation between Sri Lanka and the IOM and conveyed his appreciation for Sri Lanka's leadership of Abu Dhabi Dialogue (ADD) and its contribution and stewardship in the recent past, of the Colombo Process (CP). Director General Swing stressed that these regional processes as well as other initiatives such as migrant health, migration governance, once they were combined and harnessed into practical and cooperative programmes, could help many countries to leverage migration for development gains. He encouraged Sri Lanka to continue to be active in these areas.
Later in the day, Minister Harin Fernando also met Mr. Houlin Zhao, the Secretary-General of the International Telecommunication Union (ITU). They discussed new avenues for enhanced cooperation between Sri Lanka and ITU in the development of telecommunication outreach and digitalization, specially geared to empowering youth and rural communities in Sri Lanka, while making internet access less costly.
Matters relating to Sri Lanka's participation and contribution in ITU forums including the ITU Telecom World 2018 and the ITU Plenipotentiary Conference as well as improving connectivity and cooperation through regional mechanisms were also discussed.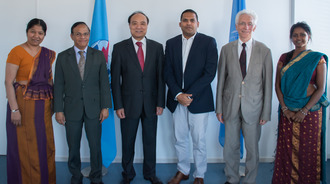 Ambassador A.L.A. Azeez, the Permanent Representative of Sri Lanka to the United Nations and other International Organizations in Geneva, Mrs. Samantha Jayasuriya, Deputy Permanent Representative and Ms. Shashika Somaratne, Minister Counsellor were associated with the Minister at these meetings.
Sri Lanka Permanent Mission
Geneva
20 July 2018