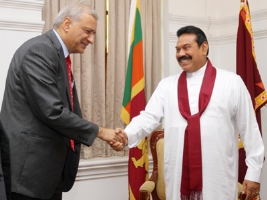 Commonwealth Secretary-General Mr. Kamalesh Sharma called on President Mahinda Rajapaksa at Temple Trees this morning to brief the current Commonwealth Chair-in-Office on the ongoing work and progress of objectives agreed upon at the Commonwealth Heads of Government Meeting (CHOGM) 2013 that took place in Colombo last November.
Calling it a routine "health check" of work resulting from a CHOGM, Mr. Sharma reported to President Rajapaksa that the check "is successful."
The Secretary-General updated the President on CHOGM reforms that are being considered, including matters pertaining to the duration of the biennial meeting and the level of participation, among others.
Regarding initiatives taking place in Sri Lanka, Mr. Sharma informed the President that the collaborations between the Commonwealth Secretariat and the Human Rights Commission of Sri Lanka have been very productive. He stated that the Secretariat stands ready to continue assisting in the implementation of the recommendations of the Lessons Learnt and Reconciliation Commission (LLRC) as required.
Mr. Sharma also noted that the work of the Commonwealth Youth Council (CYC) has been very successful thus far. Commonwealth heads endorsed establishing a CYC during CHOGM 2011 in Perth, Australia. Fulfilling that decision, the first general assembly took place in Hambantota during CHOGM 2013. Subsequently, following an offer by the Government of Sri Lanka, the International Secretariat of the CYC was established in Hambantota and officially declared open in August 2014.
"Hambantota will always be remembered as a watershed in our youth-related work," Mr. Sharma told the President.
With the approach of the one-year mark since Sri Lanka hosted CHOGM 2013, the visit of Mr. Sharma is a routine one that takes place at the half-way point to brief the Chair-in-Office of the progress of initiatives planned for the two-year period.
Minister of External Affairs Prof. G.L. Peiris and Secretary to the Ministry of External Affairs Mrs. Kshenuka Senewiratne also attended the meeting.