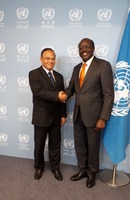 Ambassador A.L.A. Azeez, Permanent Representative of Sri Lanka to the United Nations in Geneva met with the Secretary General of the United Nations Conference on Trade and Development (UNCTAD) Dr. Mukhisa Kituyi at UNCTAD headquarters, on 30th April 2018. UNCTAD Secretary General appreciated Sri Lanka for the active role played and the productive contribution made towards the effective operationalization of the organization in its establishment phase as well as for the continued support and cooperation extended in the implementation of UNCTAD's agenda and programmes.
Ambassador Azeez took the opportunity to reaffirm Sri Lanka's commitment to the work undertaken by UNCTAD, in particular towards facilitating and strengthening developing countries' integration into the globalized economy and their implementation of the 2030 Agenda for Sustainable Development. He assured the UNCTAD Secretary General that Sri Lanka would further enhance its partnership and would proactively contribute to the ongoing activities of UNCTAD.
Having highlighted Sri Lanka's continuing cooperation with UNCTAD on a number of prioroty areas such as Investment, Electronic Commerce, Science and Technology and Commodity Development, among others, Sri Lanka's Permanent Representative projected Sri Lanka as an important venue for hosting multilateral and regional activities of UNCTAD in the future.
UNCTAD is a permanent intergovernmental body established by the United Nations General Assembly in 1964. Its primary mandate is to provide a forum to deal with issues relating to trade, investment, and development affecting progress and prospects for development of developing countries. UNCTAD, pursuant to this mandate, extends assistance to developing countries in their efforts to effectively integrate into the world economy on an equitable basis.
Sri Lanka Permanent Mission
Geneva
1st May 2018