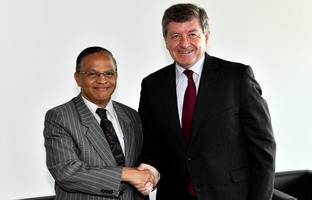 UN Agencies working together on cross-cutting issues such as labour and migration is vital to ensuring that benefits of such collaborative enterprises percolate to the countries in need, stated Ambassador A.L.A. Azeez, Permanent Representative of Sri Lanka to United Nations in Geneva, during a meeting he had with Mr. Guy Rider, Director-General of the International Labour Organisation (ILO). He expressed the view that in each area where there is expertise available in one or more Agencies, it was important to develop 'networking' with the facilitation of a convener, to enable cross-fertilisation of ideas, and to improve internal cohesion across the UN system.
Acknowledging the need to break silos, DG Rider stated that the UN has undertaken a system-wide strategic plan to reform the UN Development Pillar and that it would be aligned in support of the 2030 Agenda and SDGs.
Ambassador Azeez, recalling Sri Lanka's active engagement in enhancing and promoting the rights and welfare of the labour migrants in the Asia – GCC Corridor as the current Chair of the Abu-Dhabi Dialogue (ADD), stated that Sri Lanka would be hosting an intersessional meeting in Colombo in May 2018, where the issues being discussed would be in line with the ILO's Decent Work Framework.
He also apprised the DG of the proactive steps being taken in Sri Lanka to further improve labour rights and to comply with international obligations. Recalling his close involvement in developing the National Human Rights Action Plan 2017 – 2021, he drew attention to the dedicated chapter in the Action Plan, on 'migrants rights and labour rights', which assured further progressive actions in relation to several key ILO conventions.
Deputy Permanent Representative Mrs. Samantha Jayasuriya was associated with Ambassador Azeez while Mr. Shengjie Li, Senior Advisor for Asia and the Pacific, assisted Director General Rider.
Permanent Mission of Sri Lanka
Geneva
22 May 2018