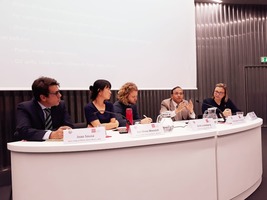 "A study of the health effects of marine plastic pollution and micro-plastics is important for strengthening national and global initiatives to combat plastic pollution of our oceans", stressed Ambassador A.L.A. Azeez, Sri Lanka's Permanent Representative in Geneva, addressing an interactive Panel Discussion held at the Graduate Institute of Geneva as part of the Geneva Sustainability Week.
At the interactive Panel Discussion 'Our Plastic Future: Can the Oceans Survive?' where a number of participants actively engaged, Ambassador Azeez elaborated Sri Lanka's efforts and commitment towards achieving effective and non-discriminatory global environmental governance, highlighting further the measures taken by Sri Lanka in this context, including at the recently concluded Fourth Session of the United Nations Environment Assembly in Nairobi.
"Sri Lanka's strategic path for sustainability 2030 has, as its central focus, environmentally sound development activities, complemented by international assistance including technical assistance and sharing of know-how", he added.
Ambassador Azeez also highlighted the constructive role and contribution that Sri Lanka has made, over decades, to matters of multilateral concern impacting the nature and the environment, referring specifically to the leadership given by Sri Lanka in areas such as the Law of the Sea and innovative initiatives taken in relation to biodiversity, transboundary movement of hazardous waste and trade in endangered species.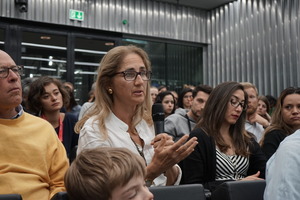 He also drew the attention of the audience to substantive arrangements that are underway to host the 18th Conference of Parties to the Convention on International Trade in Endangered Species of Wild Fauna and Flora (CITES), in Colombo, from 23 May to 3 June 2019.
Permanent Mission of Sri Lanka to the United Nation
Geneva
3 April 2019