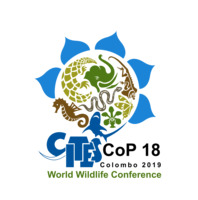 Sri Lanka is readying itself for the hosting of COP 18 of CITES in Colombo 2019. Known as World Wildlife Conference, the 18th Meeting of the Conference of Parties (COP18) to the Convention on International Trade in Endangered Species of Wild Fauna and Flora, attracts 183 parties (182 States + European Union) with the participation of up to 4500 to 5000 delegates & stakeholders.
In continuing demonstration of its consistent national commitment to the protection of the Environment and wild fauna and flora, as well as advancing progress in the Sustainable Development Goals to 2030, Sri Lanka is proud to host this major global conference in the Colombo, from 23 May – 3 June 2019.
The Ministry of Tourism Development, Wildlife and Christian Religious Affairs, along with Presidential Secretariat, Ministry of Foreign Affairs & the Permanent Mission of Sri Lanka in Geneva, has been making Conference related arrangements as well as substantive preparations for the CITES COP 18, fully assisted by the CITES Secretariat in Geneva.
Permanent Mission of Sri Lanka
Geneva
14th February 2019