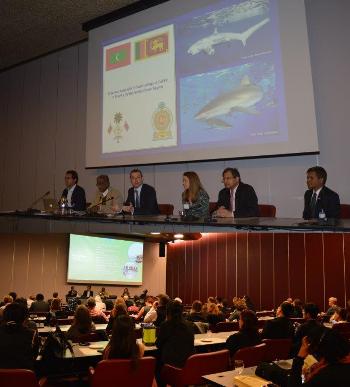 Minister of Sustainable Development and Wildlife, Mr. Gamini Jayawickrama Perera has re-iterated Sri Lanka's commitment to protect endangered wildlife species. He said consistent with this policy, the Government had decided to destroy a confiscated blood ivory shipment on 26th January 2016 at the Galle Face Green in Colombo. The consignment consists of 359 pieces of blood ivory, equalling 1.5 tonnes.

The Minister made these remarks during his meeting with the Secretary – General of the Convention on International Trade in Endangered Species of Wild Fauna and Flora (CITES) Mr. John E. Scanlon, on the side-lines of the 66th Standing Committee meeting of CITES held in Geneva last week. Since ratification of the CITES Convention in 1979, this is the first time Sri Lanka has been represented at a Ministerial level at any meeting of this important global convention. Sri Lanka's Permanent Representative to the UN in Geneva, Ambassador Ravinatha Aryasinha, Second Secretary of the Permanent Mission in Geneva Mrs. M.L.F. Mafusa, and Advisor to Minister Mr. Daniel Fernando were associated with the Minister.

In 2012, Sri Lanka Customs forfeited a blood ivory shipment, with a total of 359 pieces of ivory. Addressing Member States and civil society representatives, Minister Jayawickrama Perera said that "this event will highlight to the world, and to everybody within our country, that we will not tolerate any illegal trade of ivory". The ivory stock will be publicly destroyed, with religious offerings to mark the unnecessary sacrifice of those elephants. Secretary – General Scanlon agreed to participate in this event and will call on the President, Prime Minister, and meet other key officials to discuss further cooperation under the Convention.

During the 66th Standing Committee meeting, Sri Lanka also announced its proposal for listing of three thresher shark species ("Kassa Mora") under CITES Appendix II, which will be considered at the CoP17 meeting in September 2016 to be held in Johannesburg, South Africa.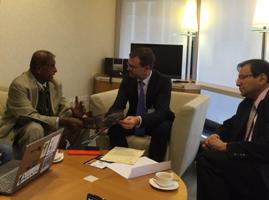 Sri Lanka also co-hosted a side–event on the 14th January 2016 alongside the Maldives, who have also submitted a proposal to list silky sharks under the same convention, to highlight the importance of listing both these shark species. The Secretary-General of CITES, inaugurating the event, highlighted the successes of the previous shark listings at CoP16.

Addressing the event, Minister Jayawickrama Perera said "With 100 million sharks killed each year, strong action is clearly needed to protect them wherever they are found, and the Government of Sri Lanka is joining the global battle to save sharks and rays found at home in the Indian Ocean, and all around the world". He urged other countries to work together with Sri Lanka on the proposal submitted and encourage sustainable trade for these species. Delegates from member states and civil society representatives who attended the side-event expressed notable interest in supporting the proposal. Minister Jayawickrama Perera also held bilateral consultations with a number of countries to seek their support for Sri Lanka's proposal on listing these shark species, as well as to explore other avenues of future bilateral cooperation in the conservation of wildlife species in Sri Lanka.

News article published on news.nationalgeographic.com: One Country Will Destroy Its Ivory—and Pray for Elephants


Press Release in PDF

Permanent Mission of Sri Lanka
Geneva
22 January 2016