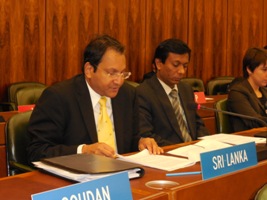 Ambassador Ravinatha Aryasinha, Sri Lanka's Permanent Representative to the UN in Geneva and Chairman of the Personal Representatives of the Group of Fifteen (G-15), has urged WIPO to take measures to promote South-South Cooperation in the field of Intellectual Property for Development. He said that "WIPO should act as a catalyst to increase triangular cooperation between developing countries and LDC's, through initiatives to identify best practices in the use of intellectual property for, inter alia, technology transfer, public health, food security, and other global challenges in which intellectual property has an important role to play".
Ambassador Aryasinha made these observations when he delivered a joint statement at the Second Annual Conference on South-South Cooperation on Intellectual Property and Development, which followed the 12th Session of Committee on Development and Intellectual Property (CDIP) at WIPO in Geneva on 22 November 2013, on behalf of G-15, a Summit Level Group of Developing Countries comprising 17 member States - Algeria, Argentina, Brazil, Chile, Egypt, India, Indonesia, Iran, Jamaica, Kenya, Malaysia, Mexico, Nigeria, Senegal, Sri Lanka, Venezuela and Zimbabwe.

The Foreign Ministers of G-15 in their 36th Annual Meeting in New York on 27 September 2103 decided to include "Intellectual Property and Development" as one of the four new thematic areas of focus for the Group in the coming years. Other three thematic areas identified include: Information Communication Technology; Renewable Energy; and Migration and Development. This was G-15's first-ever Joint Statement at WIPO.