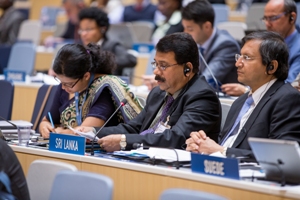 The Director General of the Geneva based World Intellectual Property Organization (WIPO) Dr. Francis Gurry, has assured support to the government's policy of orienting Sri Lanka towards a knowledge and innovation economy. Recalling his visit to Colombo in November 2013 when a 10 Point Action Plan was developed to strengthen IP related activity in the country and cooperation between Sri Lanka and the WIPO, Dr. Gurry commended the progress already made under this programme, and discussed modalities to further assist Sri Lanka.
Dr. Gurry made these observations when Secretary of the Ministry of Industry and Commerce Mr. S.S. Miyanawala met him on the sidelines of the 15th Session of the Committee on Development and Intellectual Property (CDIP) held 20-24 April 2015. Sri Lanka's Permanent Representative to the UN in Geneva Ambassador Ravinatha Aryasinha, Sri Lanka's Permanent Representative to the World Trade Organization Ambassador Nimal Karunatilake and Second Secretary Dilini Gunasekera were associated in the discussion.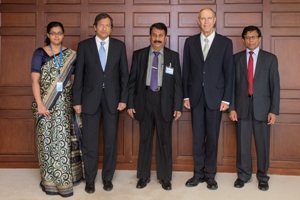 Secretary Miyanawala said the WIPO-Sri Lanka 10 point Action Plan had become a catalyst in the upgrading of the intellectual property field in Sri Lanka, which has enabled the strengthening of the cooperation between the Government of Sri Lanka and WIPO. He expressed confidence that this Action Plan will further enhance the capacity of the National Intellectual Property Office (NIPO) and other relevant stakeholders in Sri Lanka.
Detailed discussions on furthering operationalization of WIPO-Sri Lanka cooperation were also held by the Secretary and Sri Lanka delegation with the Director of the Regional Bureau for Asia and Pacific of WIPO, Mr. Andrew Michael Ong. Mr. Ong stressed the importance of strengthening the national IP office, noting that this should be done in terms of structure, human resources, as well as management at middle level. He also underlined the importance of the Government developing a cohesive IP policy and hoped the recent project carried out by WIPO under the 10 Point Action Plan titled "Integrating Intellectual Property into National Innovation Policy Formulation in Sri Lanka", would provide useful pointers in this regard. The need to have a Coordinating Mechanism which brings together the multitude of IP related focal points in Sri Lanka was also emphasized as an essential step in building the IP system in Sri Lanka . WIPO assured continued support to strengthen these activities by focussing on several key priority areas.

Earlier in his address to the Committee on Development and Intellectual Property (CDIP), Secretary Miyanawala had emphasized the need to develop substantive discussions on specific areas of interest in realizing the Development Agenda of the WIPO. He called for the maintenance of a holistic approach to ensure that IP system is more inclusive and development- oriented. Mr. Miyanawala provided an update of the activities completed and in process under the WIPO-Sri Lanka 10 Point Action Plan and highlighted it as a model to countries similarly placed as Sri Lanka in using IP as an important tool for technological advancement as well as for socio-economic development.

Permanent Mission of Sri Lanka
Geneva
25 April 2015