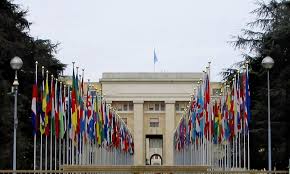 Minister of External Affairs, Prof. G.L. Peiris who leads the Sri Lanka delegation to the 25th Session of the Human Rights Council (HRC) arrives in Geneva on Tuesday (4 Match 2014), and is scheduled to deliver the Sri Lanka National Statement at the High Level Segment of the HRC on the morning of Wednesday.
The 3 day High Level Segment began today with statements by UN Secretary General Ban Ki-Moon, President of UN General Assembly John W. Ashe, President of Human Rights Council Baudelaire Ndong Ella, High Commissioner for Human Rights Ms. Navi Pillay, and the President of the Swiss Federation Didier Burkhalter. Foreign Ministers/Ministerial level heads of delegations participating in the Session will continue to address the meeting over the next 2 days.
As is customary for leaders of the delegations, Minister Peiris will meet High Commissioner for Human Rights, Ms. Navaneetham Pillay on Thursday, 6 March 2014. He will also consult with Like Minded Countries, particularly on matters relating to Sri Lanka that are scheduled to come up during the present Session. On the side-lines of the High Level Segment of the HRC, Minister Peiris will be also meeting with heads of delegations of member states. The report by the High Commissioner on Sri Lanka is scheduled to be presented on 26 March 2014.

Monitoring MP of the Ministry of External Affairs Sajin de Vass Gunawardena is already in Geneva to participate in the High Level Segment, and is being joined by Sri Lanka's Permanent Representative to the UN in Geneva Ambassador Ravinatha Aryasinha and senior staff of the Mission, Senior Assistant Secretary to the President Chandima Wickramasinghe and the Assistant Director/West Division and Counter Terrorism Unit of the MEA Fathuma Mafusa.

Leader of the House and Minister of Irrigation and Water Resources Management Nimal Siripala de Silva, and Minister of Plantation Industries Mahinda Samarsinghe, who will be in Geneva to participate in the 130th Inter Parliamentary Union (IPU) Assembly and related meetings, will join the Sri Lanka delegation from 15-21 and 9 -21 March, respectively, in briefing regional groups of member countries to the UN in Geneva on developments relating to Sri Lanka.

Senior officials, Additional Solicitors General Jayantha Jayasuriya and W.J. Shavindra Fernando, Deputy Solicitors General A.H.M.D. Nawaz and A. Nerin R. Pulle, Minister in the Sri Lanka Mission in Qatar Sithara Azard Khan, Senior Assistant Secretary to the Ministry of Defense Shashikala Premawardhane, will join the delegation during the HRC's different segments, which will run through 28 March 2014.

Permanent Mission of Sri Lanka
Geneva
03 March 2014