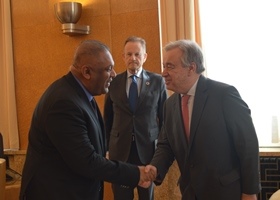 Foreign Minister Mangala Samaraweera who is presently in Geneva to participate in the High-Level segment of the 34th Session of the UN Human Rights Council met UN Secretary-General Antonio Gueterres Monday (27). This was the first meeting of the Minister with the new UN Secretary-General who took office in January this year. Recalling his several visits to Sri Lanka from 1978 onwards, including as High Commissioner for Refugees, the Secretary-General said that Sri Lanka is a country that is very dear to his heart.
Hon. Jayampathy Wickramaratne, MP, President's Counsel, H.E. Ravinatha Aryasinha, Permanent Representative of Sri Lanka to the UN in Geneva, Mr. Mano Tittawella, Secretary General, Secretariat for Reconciliation Mechanisms of Sri Lanka, Mr. A.L.A. Azeez, Snr. DG/EU, MT & Commonwealth, Ministry of Foreign Affairs of Sri Lanka, Ms. Samantha Jayasuriya, Deputy Permanent Representative, Permanent Mission of Sri Lanka to the UN in Geneva, Ms. Mahishini Colonne, Acting DG/UN, Ministry of Foreign Affairs of Sri Lanka, Ms. Prashanthi Mahindaratne, Advisor to Hon. Prime Minister of Sri Lanka, Dr. Jehan Perera, Executive Director, National Peace Council and Mr. Suren Fernando, Attorney at Law were associated with the Minister.
Mr. Michael Møller, DG of UNOG, Mr. Miguel Graça, Executive Office of the SG and Mr. Salman Bal, UNOG (Office of the DG) were associated with the UN Secretary General.

Permenant Mission of Sri Lanka
Geneva
28th February 2017