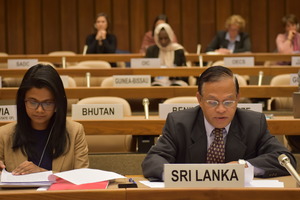 At the 2019 Global Appeal of the United Nations High Commissioner for Refugees (UNHCR) held in Geneva today, Sri Lanka expressed its earnest desire that the commitments made by the international community to the recently adopted Global Compact on Refugees (GCR) would remain on course, emphasizing "transforming the Compact into meaningful, practical measures would help address the protection needs of millions of people who remain helpless and in need".
Addressing the Conference, Ambassador A.L.A. Azeez, the Permanent Representative of Sri Lanka in Geneva echoed optimism that, at a time when "the principles and values of international cooperation have come under immense pressure", "the GCR has emerged as a rallying point for multilateralism and solidarity", as reiterated in the UNHCR's Global Appeal Update, and highlighted the more pronounced role of UNHCR in this context.
At this Global Appeal, Sri Lanka pledged a modest financial contribution to the UNHCR's 2019 programmes, in continued appreciation of the role and contribution of UNHCR and in earnest expectation that the UN Refugee Agency would be 'empowered' to deliver more strengthened assistance and protection as part of its mandate.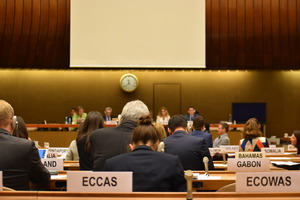 In his address, Ambassador Azeez also conveyed Sri Lanka's appreciation for the support extended by UNHCR under national resettlement programmes in partnership with stakeholders, as well as for the UNHCR's important role with regard to assistance for returnees.
Full statement made by Sri Lanka
Permanent Mission of Sri Lanka to UN
Geneva
12 December 2018