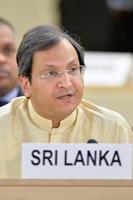 Sri Lanka's Permanent Representative to the UN in Geneva, Ambassador Ravinatha Aryasinha has said countries supporting US-led action against Sri Lanka are now a minority in the Human Rights Council.

Speaking to media following the vote today (27th March 2014), the Ambassador said a significant point about the vote in the Human Rights Council on the resolution on Sri Lanka, was that since the US first began moving resolutions on Sri Lanka in 2012, a majority of the 47 members of the Human Rights Council - 12 countries opposing and 12 other countries abstaining - has made it clear that they do not support the action taken by the US, the UK and the other co-sponsors of the resolution to impose an international inquiry mechanism concerning Sri Lanka. Those 24 countries, as against the 23 ( that includes 12 - EU, EU aspirants and the USA), who refused to endorse the action being taken, have sent a very clear and emphatic message rejecting imposition of external solutions on Sri Lanka, and the detrimental effect it would have on the reconciliation process.


Algeria, China, Congo, Cuba, Kenya, Maldives, Pakistan, Russian Federation, Saudi Arabia, United Arab Emirates, Venezuela and Viet Nam opposed the resolution, while Burkina Faso, Ethiopia, Gabon, India, Indonesia, Japan, Kazakhstan, Kuwait, Morocco, Namibia, Philippines, South Africa abstained. The resolution was supported by 23 countries, which included the USA and 11 EU & EU aspirant countries which voted as a bloc (Austria, Czech Republic, Estonia, France, Germany, Ireland, Italy, Montenegro, Romania, the Former Yugoslav Republic of Macedonia, United Kingdom) as well as Argentina, Benin, Botswana, Brazil, Chile, Costa Rica, Cote d' Ivoire , Mexico ,Peru ,Republic of Korea and Sierra Leone.

Earlier, addressing the Human Rights Council on behalf of Sri Lanka as the country concerned, Ambassador Aryasinha said Sri Lanka was disappointed to observe that a key imperative driving this resolution is not genuine concern for the welfare of the Sri Lankan people but electoral compulsions of some States at the behest of certain extreme elements with links to the LTTE. Such biases and extreme ideologies ignore the ground realities, the legitimate aspirations of the Sri Lankan people, and trivialize the price paid by all Sri Lankans to defeat a 30-year brutal terrorist conflict and consolidate peace.

Rejecting the resolution, he reaffirmed the Government's firm resolve and commitment to continue its ongoing process of reconciliation and nation building and assuring the Council that Sri Lanka will remain steadfast in its consistent position of cooperation with the international community and the United Nations.


Permanent Mission of Sri Lanka
Geneva
27th March 2014
Interview: Action against us unnecessary: Sri Lanka's envoy on UN resolution