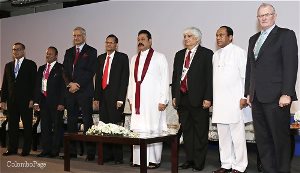 President Mahinda Rajapaksa said it is vital that all of us, as one cohesive body, adopt a collaborative approach to find ways and means in our own economies, to link wealth creation and social and human development, at all times. "To my mind, wealth creation is also the sustainable and continuous improvement, of human and natural capital, as well," he said.
Inaugurating the Commonwealth Business Forum today (November 12) in Colombo he pointed out that some of the world's richest and poorest citizens are in the Commonwealth - annual per capita incomes of the different countries range from about US$ 250, to over US$ 50,000. Referring to the goals set at the 1971 CHOGM in Singapore, and subsequently in Harare in 1991, he lamented that disparities amongst member countries, had in fact, worsened, after 20 years.
President said Sri Lanka could be cited as a classic example of a country that has relied upon a sustainable model of wealth creation, through the collective efforts of its many and varied stakeholders, together with a sustained approach towards social and human development.
"Any analyst, who cares to examine the Sri Lankan development case study, would be able to see clear signs of this pragmatic approach, which has led to the positive results in our country," he said. "The selection of the Forum theme, namely, "Partnering for Wealth Creation and Social Development" is undoubtedly relevant and timely. The theme of today's Forum ideally fits Sri Lanka's own philosophy, while also articulating a vital need in today's global economy".