Sri Lanka focuses on the Pivotal Role the country could play in the Maritime Security Domain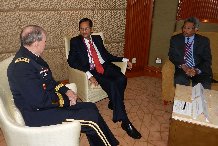 On the margins of the Shangri-La Dialogue, Sri Lanka's delegation to the meetings led by the Minister of External Affairs and Secretary Defence Mr Gotabhaya Rajapaksa met with General Martin Dempsey US – Chairman of the Joint Chiefs of Staff and A K Anthony the Defence Minister of India. Prof Peiris gave an in depth account of implementing a locally chartered course of action for national reconciliation which also included elements of rehabilitation, reconstruction and the socio-economic development of the conflict affected Northern and Eastern parts of the country. Both USA and India commended the incremental and steady progress being made in these areas and were keen to assist Sri Lanka in all aspects of their multifaceted bilateral partnership for attaining sustainable peace. As a coastal nation, the meetings recognized the pivotal role that Sri Lanka navy could play in strengthening the security of sea lanes in the Indian Ocean and resolved to co-operate closely in drawing on their synergies in combating international terrorism. As two key strategic partners of Sri Lanka, both the USA and India responded positively to a request made by Secretary of Defence for enhanced training opportunities for capacity building of defence personnel in their institutes of repute. Prof Peiris addressed a thematic Session on "South Asia's Growing Security Threats" in the Asian Security Summit, in Singapore. Among his fellow panellists was Dr Dipu Moni, Minister of Foreign Affairs of Bangladesh.
Ministry of External Affairs
Colombo.
5 June 2012