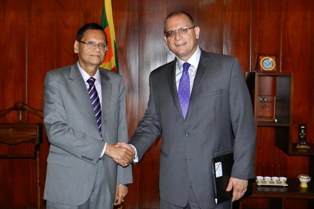 Mr. Konstantin Dolgov, Russian Foreign Ministry Commissioner for Human Rights, Democracy and the Rule of Law, and Ambassador-at-Large, called on Professor G.L. Peiris, Minister of External Affairs, at his Ministry yesterday for a wide ranging discussion of current developments in Sri Lanka.
Commissioner Dolgov's visit, on the invitation of the External Affairs Minister, is a sequel to the meeting which Minister Peiris had in Moscow in May this year with Mr. Sergey Lavrov, Foreign Minister of the Russian Federation.
At this meeting Foreign Minister Lavrov said that human rights should not be used as a political tool and that the criteria used in assessing human rights situations should not be selective and subjective. He emphasized the value of domestic procedures evolved in keeping with national cultures and traditions.
He informed his Sri Lankan counterpart of the mandate of the Russian Federation's Commissioner of Human Rights, Democracy and the Rule of Law, and the work currently being done in the field of human rights by the Commissioner.
On this occasion Prof. Peiris extended an invitation to Commissioner Dolgov to visit Sri Lanka and to observe developing circumstances in the country.
Minister Peiris provided Commissioner Dolgov with a detailed briefing about the work already done by the government of Sri Lanka with regard to reconciliation and development, and priorities in respect of future plans. He said that Mr. Dolgov's insights and perceptions regarding the Sri Lankan situation would be useful.