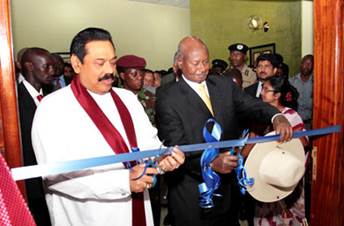 President Mahinda Rajapaksa and Ugandan President Yoweri Museveni opened the new Sri Lankan High Commission in Kampala, Uganda yesterday (13).
The new Sri Lankan High Commission in Uganda is the 62nd Sri Lankan diplomatic mission abroad and the 6th in the African continent. The last three were opened during President Rajapaksa's tenure.
Both Presidents were received at the opening ceremony by the non-resident High Commissioner of Sri Lanka to Uganda Mr. T. Raveenthiran and Honorary Consul of Sri Lanka in Uganda Mr. V. Kananathan.
Minister of External Affairs, Prof. G. L. Peiris and Ugandan Foreign Minister Sam K. Kutesa spoke to the mainly Sri Lankan audience who had gathered for the occasion.
President Rajapaksa also launched the Sri Lankan funded project to upgrade the Masulita Vocational Training Center yesterday afternoon. In an agreement signed during President Musevni's visit last year, Sri Lanka consented to provide $1.5 million to improve this facility.
President Rajapaka and the delegation arrived in Uganda on May 10. The Sri Lankan and Ugandan delegations held bilateral talks yesterday at the State House in the town of Entebbe. The discussions were focused on economy, trade, power and energy sectors President Rajapaksa also agreed to a request by his Ugandan counterpart, seeking help for the development of apparel sector drawing lessons from Sri Lankan success story, in Uganda.
The Ugandan President hosted the Sri Lankan delegation for a State Banquet yesterday at the Entebbe State Palace.
This is President Rajapaksa's second official visit to Uganda. The last visit was to attend the Commonwealth Heads of Government Meeting (CHOGM) in 2007. Uganda's President Yoweri Museveni visited Sri Lanka last November.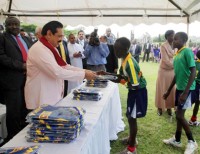 Sri Lanka President Mahinda Rajapaksa has promised to help Uganda to develop its cricketing talents said President's Media Unit. He has also said that Sri Lanka will deploy its cricketing veterans to help develop cricket in the African nation.
President Rajapaksa has given this assurance when the men and women's national teams met him Monday at the Mehta Village in Lugazi.
UCA CEO Justin Ligyalingi has informed Sri Lanka President that part of the current national team includes some who played in the ICC U19 Tournament in Sri Lanka in 2006. He has further said that the team is looking at developing their talents and has requesti Sri Lanka to help as they are preparing for the World Cup qualifiers in New Zealand,
Support from Sri Lanka is expected to be in the area of sending coaches to Uganda and training tours to Sri Lanka by both the men and women national teams.
President Rajapaksa also handed over cricket uniforms to the Ugandan Junior Cricketers when he met them on Monday.