The Fourth Session of the Senior Officials Meeting of the Sri Lanka – South Africa Partnership Forum was held on 21st May 2013 in Pretoria, South Africa. External Affairs Secretary K. Amunugama led the Sri Lanka delegation with Sri Lanka High Commissioner Shehan Ratnavale in attendance. Deputy Director General / Addl. Secretary (Asia & Middle East) of the Department of International Relations and Cooperation (DIRCO), Anil Sooklal led the South Africa Delegation with South Africa High Commissioner Geoffrey Doidge in attendance.
The 04th Session of the Partnership Forum was an important juncture in Sri Lanka- South Africa relations as it completed ten years since its' establishment by conclusion of an Agreement on 01st December 2003 by two Foreign Ministers in Pretoria. The forum provides a constructive mechanism that enables Sri Lanka and South Africa to work together for the mutual benefit of its peoples.
The deliberations were held in a very cordial and friendly atmosphere. During the 4th Partnership Forum both sides emphasized that there is much more to be done and that the time is opportune to accelerate the process of bilateral cooperation between the two countries.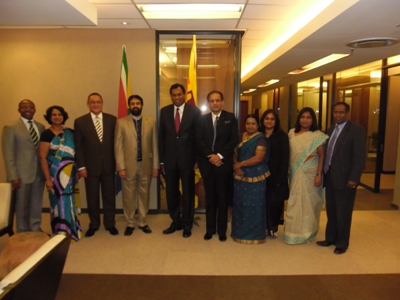 Secretary Amunugama stated that historically, the part played by Sri Lanka in the international struggle against apartheid is the firm foundation for the flourishing bilateral relations between the two countries. He highlighted that the 5th Non-Aligned Movement Summit held in Colombo in 1976 saw a collective position taken against Apartheid.
Text of the Media Release issued by the MEA in Colombo.