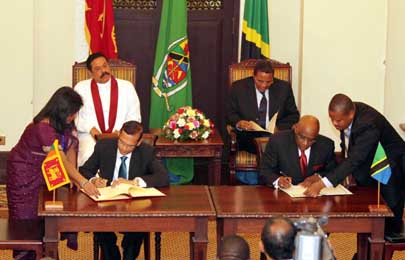 President Mahinda Rajapaksa's visit to Tanzania has laid a solid foundation to further enhance cooperation in all sectors between Sri Lanka and the African Continent, Tanzanian President Jakaya Mrisho Kikwete said.

President Kikwete made these comments yesterday (27) when he held bilateral discussions with President Mahinda Rajapaksa who is currently on a state visit to Tanzania.

"President Rajapaksa's determination and commitment to strengthen economic cooperation with the African region is commendable", President Kikwete said while adding that Sri Lanka and Tanzania have a long history of cooperation."Your visit certainly strengthens this relationship," he observed.

President Rajapaksa thanked the Tanzanian President for inviting him to participate at the 2013 Global Smart Partnership Dialogue as it provided a platform to discuss matters of mutual interest and to meet with leaders in the region.

"The success Sri Lanka had gained in the tea industry is impressive and we are willing to learn from you", the Tanzanian President added. His country would also like to share experiences and learn from Sri Lanka in clove and coconut industries.