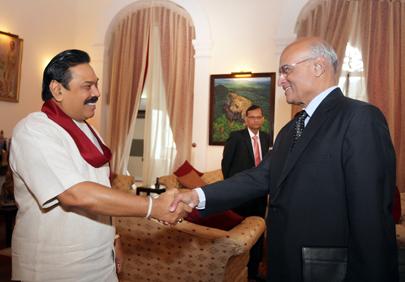 President Mahinda Rajapaksa, during a discussion with India's National Security Advisor Shivshankar Menon, said the Parliamentary Select Committee (PSC) is the best forum to reach a consensus on the implementation of the 13th Amendment.
At the meeting that took place at the President's House in Colombo this morning, President Rajapaksa explained to Menon the practical problems that exist with devolving land and police powers to the provinces of a small country such as Sri Lanka and stressed that the structure that is implemented should apply and be acceptable to all parts of the country.
The President agreed with Menon that the participation of the Tamil National Alliance (TNA) in the PSC is important. It is a top priority of the government to reach a consensus on the 13th Amendment, President Rajapaksa said. The President also urged India to encourage the TNA to participate in the PSC and stated that the government is committed to taking the process forward despite any obstacles.