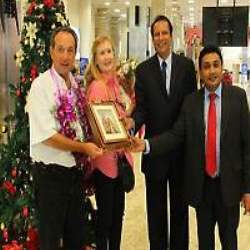 Sri Lanka yesterday welcomed the arrival of German tourist Torrance Jimmy as the 1.5 millionth tourist arrived in Sri Lanka for the year 2014.
The German national and his wife arrived at the Bandaranaike International Airport in Katunayake on a Sri Lankan Airlines flight UL 558 from Germany.
Sri Lanka Tourism officials including Managing Director Rumy Jauffer and representatives from travel and tourism industry warmly welcomed the couple who will be in the island on a 21-day tour.
This is the first time in the history of Sri Lanka tourism industry 1.5 million tourists have arrived in the island.
Sri Lanka has set a target of 1.5 million tourists for this year and has earned US$ 1.6 billion from tourism in the first nine months of this year.
Sri Lanka Tourism aims to attract 2.5 million tourists by the year 2016.