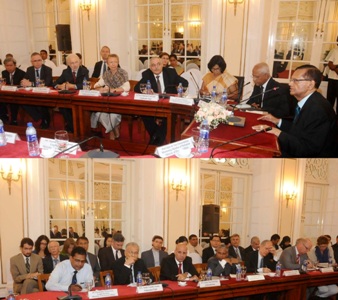 There is no substitute for a Parliamentary Select Committee to resolve in a systematic and all-inclusive manner the issues relating to constitutional reform which are now the subject of vigorous debate in the country, Professor G.L. Peiris, Minister of External Affairs, told Ambassadors and High Commissioners accredited to Sri Lanka at a briefing at the Ministry of External Affairs on 26th June 2013.
He noted that several Provincial Councils, political parties, academics and professionals had recently expressed divergent views on these issues and commented that a structured and comprehensive approach is necessary in reflecting on these matters before constitutional amendments are presented to Parliament. Since constitutional reform is necessarily a matter within the purview of Parliament and a special majority is required, involvement of a Parliamentary Select Committee for this purpose is indispensable, he said.
Full text of the Statement : Link…..