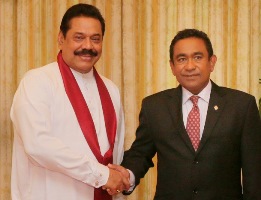 "Our two countries have been very good neighbours for a long time. We do not approve undue external pressure over countries. That is why the Maldives consistently stood for Sri Lanka at international fora. We will continue to do so in shoulder to shoulder with Sri Lanka", Maldivian President Abdulla Yameen Abdul Gayoom said during a bilateral discussion with President Mahinda Rajapaksa held at President's Office in Male yesterday (25).
Following one-to-one meeting between two Presidents, bilateral discussions between the delegations of two countries commenced. The long standing and mutually benefitted relations between Sri Lanka and Maldives was highlighted in this discussion while exploring ways and means for further strengthening relations. "Our countries have been subjected to harassments and too much foreign intervention. This should stop. For that we must stand together", the Maldivian leader said.
While noting President Rajapaksa had visited Maldives on four previous occasions, President Abdul Gayoom expressed his gratitude for the support Sri Lanka extended to his country.
President Rajapaksa expressed his satisfaction for the warm welcome received by him and his delegation. Your visit to Sri Lanka in last January was helpful to further cement the relations between our two countries. We see that Maldives progressing ahead with a new vigor. Maldives' role in SAARC is commendable. President Rajapaksa said while thanking Maldives for the support for Sri Lanka at international fora.
Friendship and cooperation among South Asian countries will not only beneficial to the countries in the region but also it helps for world's peace and stability, President Rajapaksa pointed out. We should speak in same voice at a common platform, he said. Sri Lanka – Maldives Joint Commission should be utilized to enhance bilateral relations in a systematic manner, President Rajapaksa added. In response President Abdul Gayoom said that the Commission is meeting in August.
New areas of cooperation in existing sectors of economic, trade, social and cultural were identified during the discussion. President Rajapaksa identified certain areas of cooperation including the development of hospital service in Maldives health, education, scholarships, youth development, sports, vocational training, culture, crime prevention, security and military training.
We have a huge shortage of doctors and the lack of specialists is a big problem, help us to resolve, the Maldivian President requested and President Rajapaksa readily agreed to that. President Rajapaksa drew his attention to the issue of not paying a pension to Sri Lankan migrant workers in Maldives. That problem is solved, President Gayoom said.
President Gayoom said Maldives intends to negotiate with member countries to empower SAARC. He requested Sri Lanka's support to his country for the membership at UN Human Rights Council.
Maldives completes 50 years since gaining independence next year. 2015 will also mark the Golden Jubilee of establishing bilateral relations between Maldives and Sri Lanka. President Gayoom invited President Rajapaksa to attend the function to mark the occasion.
Minister of State for Foreign Affairs Ms. Dunya Maumoon Minister of Defence and National Security Colonel (Rtd) Mohamad Nazim, Minister of Tourism Mr. Ahmed Adeeb Abdul Ghafoor and the Parliamentary Group Leader of ruling Progressive Party of Maldives Mr. Ahmed Nihan Hussain Manil represented Maldives at the discussion.
Minister of External Affairs Prof. G.L. Peiris, Minister of Higher Education Mr. S.B. Dissanayake, Monitoring MP of the Ministry of External Affairs Mr. Sajin de Vass Gunawardena, Members of Parliament Mr. A.H.M. Azwar, Mr. Lohan Ratwatta, Mr. Udith Lokubandara, Mr. Ranjith de Zoysa and Mr. Thenuka Vidanagamag, Secretary to the President Mr. Lalith Weeratunga, Secretary to the Ministry of External Affairs Mrs. Kshenuka Senewiratne and Sri Lanka's High Commissioner in Maldives Mr. Dixon Dela Bandara comprised the Sri Lankan delegation.